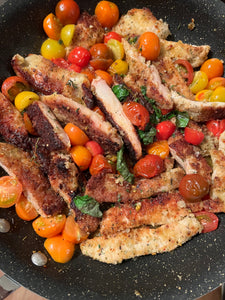 Creamy Herb Chicken Pasta
Breaded Italian Seasoned Chicken Breasts with Mushrooms, Thyme & Basil, Sangria Tomatoes, Herb Garlic Goat Cheese, Cream, Parmesan Cheese, White Wine and Linguini Pasta. 
Recipe:
Add strips of Herb Breaded Chicken to a Hot Sauté Pan that's already marinated in Avocado Oil or Extra Virgin Olive Oil. 
Once chicken is crisp add tomatoes, mushrooms, goat cheese, cream and white wine.  Cook all ingredients in one pan, add cooked pasta, 1/4 cup pasta water, blend all ingredients until pasta is coated in all flavors.
Plate, Garnish with Parmesan cheese and serve. 
We are curating a delicious creation of recipes that take about 10-30 min tops to prepare.  check back on Instagram and the Blog weekly for more easy delicious recipes. Bon appetite- Cheers 🥂
---