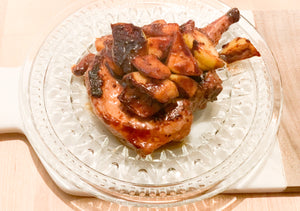 Pork Chops and Sauteed Apple, Butter Pinot Noir Glaze
Something about me that you might know is that I'm not a big meat eater. I tend to stick close to fish as my main protein source coupled with lots of fresh vegetables, fruits and grains. But if there is one protein outside of fish that I serve most often and love it's a meaty, juicey thick pork chop! I love cooking with Pork and Apples in the Fall. When a pork chop is prepared right it's packed with juicy rich flavors that will set your taste buds into a joyful place. Blue Cheese, Mushrooms, Mixed Vegetables and Fruits are all wonderful pairings with pork. The simple recipe prepared in minutes that I'll be sharing is centered around the fall season and what better fruit to pair with this piggy then Apples. We'll be dishing up Pan Seared Pork Chops with an Apple -Butter, BBQ Sauce Pinot Noir Glaze. Mmmmm are you salivating yet. 
Ingredients: 
Thick Cut Bone in Pork Chops
Extra Virgin Olive Oil (EVOO) 
Fresh Ground Pepper
Sea Salt 
Dried Herb Rub Seasoning 
Fresh Apples x3
Butter or Gee (I used Gee)
BBQ Sauce (any store bought will do) 
Pinot Noir Wine 
Prep: 
Set your large skillet on stove and heat until piping hot (test by sprinkling water and if it dances on the pan and sizzles, your ready to sear the chops) 
- Drizzle EVVO so that its lightly covering the pan 
- Pre-Season your Chops with Fresh Ground Pepper, Sea Salt and Mixture of Dried Herb Rub (make your own or store bought brands are great)
- Place Seasoned Chops on Pan and sear for about 4min each side or until gold brown crust on top 
- Chop Apples into cubes or triangles and place into the pan once both sides of your chops are cooked for at least 4 min each side
- Add 1 tbsp Butter or Gee to pan and cover the apples and chops 
- Add 1/4 Cup BBQ Sauce to pan and rub all over apples and chops
- Add 1/4 Cup Pinot Noir Wine to the pan 
Flip your chops from one side the other covering them in the Apple, Butter, BBQ and Pinot Noir until the chops form a nice glaze and the Apples are nice and cooked to perfect (soft or tender, it's to your liking)
Dish the Chops onto a plate (suggest making store bought or homemade CousCous) and top with the glazed Apples and Glaze Sauce (BBQ, Pinot Noir, Butter)
Once plated you are ready to serve! Meal from Prep to Dinner should take approx 15-20 min. 
Cheers and Enjoy! 
---